In July, I did a little shopping at one of my local scrapbooking stores. It's been a while since I've done that. I was in the store for over 2 hours! Don't get me wrong ... I'm not saying I haven't bought any craft stuff; I have ... it's just been on-line :)
One of the many things, I bought on this shopping spree are stencils. It's been quite popular recently with the popularity of mix media ... you can use inks, sprays, embossing paste, texture paste .... the possibilities are endless. I decided to give it a try with distress inks. I was also trying to figure out if I could come up with a stencil "funshop". Yup, I restarted my "funshops" at work ... it was pretty crazy at work, and I was having difficulty disconnecting ... hubbie would say I have difficulty to stop working! With the week being so intense that by the time the weekend comes along, I'm too drained to do anything ... definitely not a good thing! Anyway, I figure I need another focus at work ... "funshops" at lunch time!
Anyway, I took out the Memory Box Ornate stencil, some distress inks, and blending tool ... and away I went. BTW, this was in September ... as I mentioned, I've drafted a few posts but didn't get around to adding the pics.
It was pretty easy to apply ink and fun ... at the end, I spritz it with some "pearlized" water to give it some glimmer ... basically, a mixture of perfect pearls and water in a mini mister. I haven't figured out what to do with this yet, but I like the way this turned out.
As I was playing with the Memory Box stencil, I was wondering if I had enough stencils for a funshop. I would not be able to have more than 7 people for the funshop ... hmmm ... then it came to me ... I could die cut some cover plates and use them as a stencil. I tried it with the Quatrefoil cover plate from Papertrey Ink. Initially, I die cut it with Strathmore Bristol paper, but the ink did not go on as easily as a stencil ... at least that's what it seemed like. I tried a transparency, but what I had was not thick enough.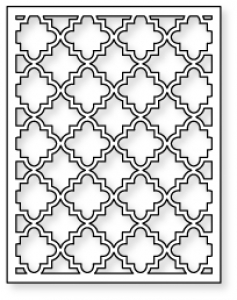 Finally, I tried Neenah Solar White cardstock ... the ink did not go on as easily either, but it was acceptable. In the end, I had 2 pieces with colour ... I thought ... hey, 2 cards for the price of 1 (sort of speak). Here are the 2 cards ...