Guess what!? I finally place an order for Papertrey Ink stamps yesterday ... it's only been a bit over a year that I've been wanting to purchase their stamps. I guess I'm not an impulsive shopper ... either that or one can say I'm just slow :)
I love their stamps! I purchase 9 stamps sets, 1 die set and some kraft cardstock. You know I actually cut my order in half ... yes, that wasn't the initial order ;) Here's the stamp set that made me fall in love with these stamps ... "In Bloom".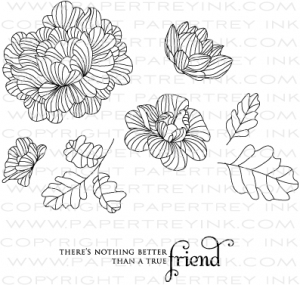 I guess some my not understand my excitement in seeing that ... so check out a card by Nichole Heady, Designer & Co-owner of Papertrey Ink. Isn't it gorgeous!?
I was telling hubbie that I was writing about my order on my blog, and his reply was ... "You mean my order of Papertrey stamps." ... the reason he's saying that is because we put the order through his paypal account. I would tell him that he will be ordering from there more frequently; however, I think he knows that already :) I can't wait until "his" order comes in!!